HOLLYWOOD IN RENO PART 2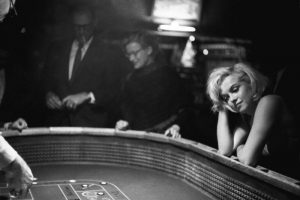 Last week we talked about early films made or at least set in Reno, before Vegas became the natural Hollywood magnet it is today. This week I want to share with you what I think are the most important films set (and made) in Reno and Northern Nevada. To note every movie that has been shot in Reno would take too long and would likely turn out to be one of those less interesting list type articles that sound more like a textbook than a column aimed at holding your interest.
Suffice it to say, a lot of movie magic has been produced here and in the surrounding area; films which were partially made here include "The Pledge" starring Jack Nicholson and directed by Sean Penn. "Diamonds", starring Dan Aykroyd and Kirk Douglas was shot here and up in the Sierra Valley. "The Muppets" had Fozzie Bear and his band working at the Bonanza Casino when Kermit came looking for him (that's the Foo Fighters playing back up for the bear in case you saw the movie and wondered why the faces were familiar).
At times, Reno has actually substituted for Vegas as was the case with "The Cooler" starring Alec Baldwin, Maria Bello and William H. Macy. Interiors were filmed in the non-operating Golden Phoenix Casino in 2003. And while the film "Smokin' Aces" starring Jeremy Piven takes place and was primarily shot in South Lake Tahoe – with some stunning scenic views from the 10th floor of the Mont Bleu Hotel – some interior casino scenes were filmed in Reno for the sake of both expedience and budgetary concerns.
In 1936, the Genoa area was a stand in for Canada in the film western "Rose Marie", using the mountains above Nevada's first settlement as a backdrop for British Columbia.
The 1992 Comedy "Sister Act" is a story in which Whoopi Goldberg hides from the mob in a San Francisco convent. When her past catches up to her, Goldberg's character brings everyone up to Reno to try and deal with the sticky situation. Of particular note is the scene filmed at the Golden West pancake house on Second Street (not to be confused with the Gold Dust West a block over), one of the last bastions of "Old Reno" that went out of business as modern sensibilities objected to the Golden West's use of a Native American child holding a plate of pancakes as its logo.
And it is here that we have hit upon our subject; the important films made in Reno. But since this is not a film critique column, our parameters of what makes a given movie important do not include things such as plot, acting, characters, etc.  For the purposes of this week's column, I am listing films that showcase Reno of the past, and preserve what The Biggest Little City used to be in terms of historic settings, culture and other aspects related to the main points.
I'll try to give you a feel for whether or not the movie is entertaining, but my focus will be on everything I just outlined above.
These are in no particular order.
FATHER'S DAY (1997) starring Robin Williams and Billy Crystal. Hard to imagine a comedy with these two stars that turns out to have very little actual comedy in it. This film marked the downturn in Williams' career as he subsequently took one maudlin, unfunny role after another. The setting's importance lies not just with its location in Reno, but it was shot largely in Reno's historic Harold's Club after it had finally closed down for good. In its heyday, Harold's Club was literally known the world over thanks to owner Harold Smith's rather aggressive and eccentric advertising campaign, which included billboards in countries all over the world that read "Harold's Club or bust" and displayed how many actual miles were between that particular billboard and the city of Reno. Smith was so ambitious he actually opened up negotiations with NASA in order to put a billboard on the Moon that read "Harold's Club or bust, 238,857 miles to Reno". The deal never went through, but the casino hotel itself was the premier Reno destination throughout the middle 20th century. If you want to see what the place was like, watch "Father's Day", and maybe you'll find a laugh or two in the process.
BLIND FURY (1989). Rutger Hauer plays a blind martial arts expert who unintentionally meets a young man and his mother who is in the process of dying from a gunshot wound. "Take him to his father in Reno" are her last words to Nick Parker (Hauer) and he feels honor bound to carry out her request. This is the flimsy set up to an even flimsier action/gimmick movie (the gimmick being that Parker is blind and all the bad guys try to take advantage of this but meet with the business end of Parker's Samurai sword instead) that showcases Reno in the late 80's before the Riverwalk and the rest of the downtown renaissance. Those who remember when the Wells Overpass was a two lane bridge where one scene was filmed will also recognize the landmarks in the background as well as images from a time when The Biggest Little City was much in need of that forthcoming refurbishment.
HARD EIGHT (1996). One of Paul Thomas Anderson's early works, this gritty neo-noir thriller will appeal to those with an affinity for the genre. Set in Reno, it was filmed largely inside John Ascuaga's Nugget in Sparks. There are a few scenes that take place outside, but what's particularly relevant here is the atmosphere. One of the film's aspects focuses on the fact that Reno had long since been eclipsed by Las Vegas as a gaming destination and had become a mecca for those who were down on their luck. Gwyneth Paltrow plays a Reno cocktail waitress as a metaphor for someone who used to be the center of attention (as Reno once was) but is now relegated to tougher times. Rounding out the cast are Phillip Seymour Hoffman, Samuel L Jackson, John C. Reilly and Phillip Baker Hall.
THE MISFITS (1961). Legend has it there is a curse on this film, set in Reno, Dayton and a remote cabin in the Northern Nevada desert. It was Clark Gable's last movie; he died of a heart attack two days after principle production ended. It was Marilyn Monroe's last movie; she died of a drug overdose the following year. Montgomery Clift – who had fought with both cast and crew to have his name listed first in the credits because he believed he was going to be a bigger star than the others – died five years later while watching the film on television. Arthur Miller, who wrote the screenplay as a valentine to wife Marilyn Monroe, would find himself divorced (by way of Reno) before filming even began. Eli Wallach is said to have developed an intense obsession with Monroe which he was never able to fully overcome. Watch the dance scene in the desert cabin and in particular, notice Wallach as he stares at her and see if that doesn't lend credence to the rumor. While actors battled it out over credits and salaries, the great director John Huston is said to have caught his legendary gambling habit because he got bored during shooting delays. Curse or not, "The Misfits" is often listed as one of the greatest films ever produced. Its focus on the cowboy as a dying breed is the center around which tragic lives evolve both on and off screen. The bar in Dayton where several scenes were shot during the rodeo sequence is still there, and you can visit the very spots where Monroe and Gable stood. Scenes in Reno include the Virginia Street Bridge, the Courthouse, and Harrah's, all of which feature prominently in the movie before it finishes up out in the desert. If you see no other film on this list, make sure to watch this one.
Honorable Mention: THE GODFATHER PART 2 (1974). Like last week, our honorable mention was filmed in the greater Reno area, but not actually in Reno. Every scene at the lake house was filmed on the west shore of Lake Tahoe.
That will do it for our two part look at Hollywood in Reno. Did we miss any movies you think should be on either list? Please let us know in the comment section below.