As Mother's Day Approaches, Linda Ballou Recalls Her Recent Visit to "Mom's Meadow" – And Delivering the Fruitcake
By Linda Ballou, NABBW's Adventure Travel Associate
After eleven years, I decided it was time to deliver the fruitcake my mother had sent me in 2009 just before she passed away.
I would take it to the meadow where I had scattered her ashes. I had kept it in my freezer (even through a severe downsizing) because I just couldn't bear to throw it out.
Her fruitcake was much too heavy for me to eat, and I didn't want to give it to anyone. Taking it to where she rested seemed a logical thing to do.
The day could not have been more gorgeous. White clouds smeared across the baby blue heavens, and a crisp breeze carried the scent of sage.
Mom lived in Haines, Alaska, so her request was to end up in a flower garden in southern California where the sun shines brightly.
Each year Mom would come south to thaw out from the long winters. So I had scattered her ashes in a wildflower meadow overlooking the back side of Boney Mountain that enjoys the morning sunrise.
She loved the flowers of California so much that one year she insisted we go to the Rose Bowl Parade. Like the rest of the masses we sat huddled on the curb, holding our knees, rocking back and forth until the warming sun came up.
We were awakened by the lively clip of marching bands leading the way for all manner of flowery creations.
The gaudy displays with their over-abundance of blooms, seeds, nuts, and grasses were worth a touch of frost bite.
My mother had rafted the Tatshenshini River from the Yukon to the Gulf of Alaska when she was 65. This inspired me to do the same. When I entered the rubber raft that was to be my transport for the next 125 miles down the gray, glacier-fed river, I doubted Mom's sanity and my own.
But the run through the phantasmagorical landscape framed in the glistening snow castles of the Fairweather Range turned out to be a life-changing adventure. I began the journey as happy-go-lucky thrill seeker, but by the end of the journey I was a raving environmentalist.
Whenever I went home to Haines, Mom always had some great adventure lined up. One year she arranged for a heart-thumping scenic flight over the St. Elias glacier field. From the tiny capsule chugging through space, I overlooked the 20 million acres of the largest protected region on earth crossing international borders. Snow-frosted spires stacked to infinity fanned out in celestial whiteness.
Below, the Lynn Canal, a sun-spangled mirror of water, was streaked with the triangle tails of tiny fishing boats. Spruce forests blanketed valleys carved by sparkling rivers. In all my travels, I've not seen anywhere more beautiful.
On my last trip home, she had arranged a safari for us on ATVs. Mom was undeniably a poor driver, so I took the wheel. We motored up and around a treacherous track to a restaurant overlooking the Lynn Canal where we enjoyed a supreme halibut feed.
At 89, she had severe diabetes and said her feet felt like she was walking on bubble wrap; she would often lose her balance. Driving was downright dangerous for her. She had crashed and taken out the wood siding of her senior center apartment, and she had been in several accidents. It was a sad day when my brother and I took away her keys.
Covid-19 gave me time to slow down, so I decided to defrost the fruitcake and make a visit to Mom's Meadow. I wanted to see how the back country of the Santa Monica Mountains had recovered from the Woolsey Fire after almost three years.
Masses of bright yellow canyon daises cloaked the mountainside. Blankets of white beach morning glories spiked with fire engine red paint brush and clumps of my favorite shooting stars greeted me on the path to Mom's Meadow.
New life had begun to engulf the blackened skeletons of trees scorched in the horrific fire that scarred 80% of the largest urban preserve in America.
As I stood overlooking Mom's Meadow, I pondered these events and my times with Mom, as the profusion of new life sprang forth all around us.
I thanked her for bringing me here and for all she had done for me while she was alive. She is why I am who I am today—an adventure travel writer who can't wait to run the next river.
I opened the fruitcake and sampled a piece before placing it on the ground for the wild creatures to find. It was made of walnuts, maraschino cherries, and candied fruit in a bread with the texture of a bran muffin.
"Umm, this is actually pretty darn good and certainly fortifying." I decided to keep half and leave the other half with her.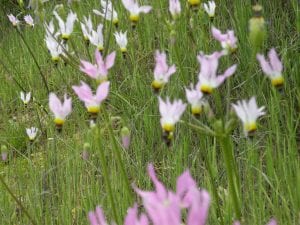 I told Mom I would be back next spring when the columbine, bush mallow, and lavender ceanothus would be in full bloom once more.
I look forward to going back to Mom's Meadow and chatting with her again; I see no reason for our story to end.
Linda Ballou is an adventure travel writer with a host of travel articles on her site www.LostAngelAdventures.com. You will also find information about her travel memoir, Lost Angel Walkabout-One Traveler's Tales from Alaska to New Zealand, and Lost Angel in Paradise where she shares her favorite hikes and day trips on the coast of California.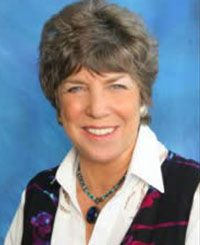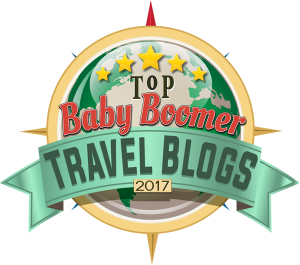 Linda's mission is to experience as many beautiful places on our planet as she can before they are no more. Travel tales relating her experiences while kayaking, horseback riding, sailing, birding and hiking about the globe have appeared in numerous national magazines. She had great fun collecting travel stories, and profiles of people she met in "naturally high places" for her book, Lost Angel Walkabout-One Traveler's Tales. Her latest book Lost Angel Unleashed is the third book in her Lost Angel Trilogy Go to
LostAngelAdventures.com
for more adventures. For more about Linda's novels and media offerings go to.
www.LindaBallouAuthor.com