Ignition
Portrait of a Lady on Fire is streaming on Hulu.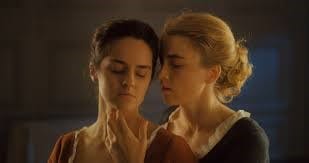 Connections are everything. We all know that humans are social animals. We all know that there's an inescapable aspect of us that yearns to be around others. That connection might be on a professional level, a familial level, a romantic level. Even introverts, who might feel like they have been in training for current events, need somebody else in their lives.
Making the right connection is hard enough. You have to be in the right place at the right time with the right person. Even then, the bonds can be tenuous. Ghosting seems like a 21st-century phenomenon, but we all know it's far older. A little time is necessary for those bonds to strengthen, and even then, sometimes it isn't enough.
If you think all that is tough, just imagine how we humans are affected by the historical epoch we live in. During a pandemic taking place in 2020, even though I need to abide by a stay-at-home order, I have options. I can text with a friend in Georgia, set up a virtual dinner party, check-in with family through social media, and even go truly old school and make a phone call.
Let's not forget that, as a straight white dude, I have an extra advantage. Whether I'm stuck during the Crimean War or in the Dark Ages, I'll probably be okay and have a fair shot at connecting with someone. What if I'm not? Then connections become more difficult, yet the opportunity can still arise. Portrait of a Lady on Fire shows us that, even in a remote section of Brittany, connections based in art and love can flourish.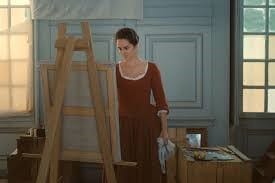 Marianne (Noemie Merlant) has found her calling as a painter. She's patient, observant, and possessed of keen intelligence. Those qualities have brought her to a painting class somewhere in France at the closing of the eighteenth century. She's the instructor, and during a lesson, one of her students notices a distinctive painting. She's also the artist of that particular piece, and it's been titledPortrait de la jeune fille en feu.
Her mind flashes back years earlier to a turbulent sea voyage ending at a rocky outpost. Marianne finds herself at a remote corner of Brittany. A sailor unceremoniously drops her things upon the beach before departing.* He gestures vaguely in the direction of a large house, and she trudges toward it.
The owner of the house is a Countess (Valeria Golino), and she's commissioned Marianne to paint a portrait of her daughter, Heloise (Adele Haenel). It should be a simple assignment, yet there are always complications. Sophie (Luana Bajrami) is the housemaid, and she informs Marianne that Heloise's sister threw herself off a rocky cliff. At the time, Heloise was a resident in a convent. Her sister was engaged to be married, and upon her death, the Countess had her removed from the convent and engaged to wed a Milanese nobleman, one whom she's never met.
There's an extra wrinkle; last time an artist attempted to paint Heloise, they were summarily dismissed. Circumstances have demanded she become a master of passive-aggression, and her mother has devised a way around. Marianne has been hired to be Heloise's "walking companion." Marianne must memorize details about Heloise–her face and hands–then paint them in secret later. Can such a thing be done? And, over time, how will the two women deal with the truth?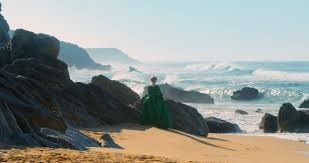 There's a benefit to being stuck in lockdown caused by the coronavirus. We're forced to take a breath, slow down, and regain a degree of patience. Films like Portrait of a Lady on Fire reward patience. Much like The Irishman, it takes its time to get to know its characters, and subtle reactions can have enormous implications.** Director Celine Sciamma has made something far more than a period costume flick. She's made a romance portraying explosive longing through steady glances and brief caresses. She adds to that an examination of the artistic process from the perspective of both the artist and subject. Speaking of art, Sciamma brought in painter Helene Delmaire to handle the creation of the portraits. You'll see scenes of a light brushstroke on canvas with a curlicue at the end. Like a kind of magic, streaks of green paint transform into the folds of a dress. The whole process is nothing short of astounding.
Sciamma wrote the screenplay, and she effectively demonstrates the old adage that a writer should show and not tell. Beyond showing us Marianne bringing the portrait to life, Sciamma shows us the growing connection and deepening romance between the painter and her subject. Her writing is refined, yet she never sacrifices efficiency. Each scene has a reason or numerous reasons for being, and they all lock into place to create a chain of inevitability.
Pairing the right actors with the right script can deliver magic. As Marianne, Noemie Merlant is our audience surrogate, and it's through her eyes and ears that we discover this small corner of Brittany. She's curious about this place, and about the fiery young woman who lives there. Her role is the less flashy of the two, but Merlant has the intelligence and charisma to hold the screen. That doesn't mean that Adele Haenel's Heloise is a role requiring her to chew and eat vast swaths of scenery. She can go big when needed. She's more compelling when she simply stares, purses her lips, and allows her anger to simmer. Haenel delivers an excellent performance that's calibrated wonderfully.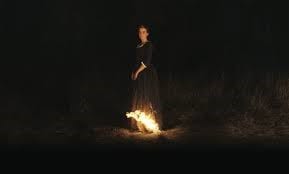 Sometimes, a connection wants to happen. It will push past sexism and racism, break through the walls thrown up by disaster, and cement itself in the hearts of two people. Portrait of a Lady on Fire is necessary filmmaking, particularly now, and it reminds us that some bonds can't be stopped.
*Proving that no matter what time period you find yourself in, there will always be some guy who only does the bare minimum.
**Unlike The Irishman, POALOF is a hair over two hours long, so there's no need to worry you're watching a movie that spans decades that feels like it's happening in real-time.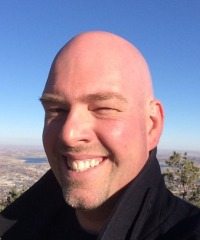 Tim has been alarmingly enthusiastic about movies ever since childhood. He grew up in Boulder and, foolishly, left Colorado to study Communications in Washington State. Making matters worse, he moved to Connecticut after meeting his too-good-for-him wife. Drawn by the Rockies and a mild climate, he triumphantly returned and settled down back in Boulder County. He's written numerous screenplays, loves hiking, and embarrassed himself in front of Samuel L. Jackson. True story.