Love, Die, Repeat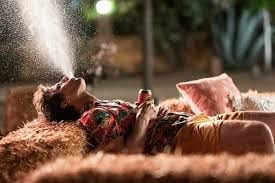 Sometimes, the best-case scenario is to be wrong. We all have our blind spots, right? I was wrong about Andy Samberg. Wrong as hell. For a while there, I had him pegged as a second-tier Saturday Night Live alum. I figured his comic persona was just like Jimmy Fallon, where he was all about being cute and non-threatening. He would probably get a talk show or a sitcom, and that would be that.
Turns out Samberg did get a sitcom, the very funny and very sharp Brooklyn Nine-Nine. He's also part of the comedy troupe The Lonely Island, and he starred in the criminally unappreciated Popstar: Never Stop Never Stopping. He's appeared on YouTube, television, film, and he's made music. You don't branch out and achieve that level of success by being non-threatening, and for the most part, Samberg has delivered strong work.
Is it possible that all comedians yearn to be taken seriously? Someday, will Samberg star in a drama playing a meth-addict marketing executive who dreams of free-diving to the bottom of the Mariana Trench? I hope not, because despite what the Academy Awards might have us believe, comedy is harder to pull off than drama. Even harder than that is pulling off a comedy with a brain, a soul, and something to say. Andy Samberg's newest film is Palm Springs, and it checks all of those boxes masterfully.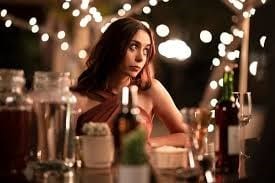 The wedding day is November 9. On that day, Nyles (Andy Samberg) awakens to the sight of his girlfriend Misty's (Meredith Hagner) leg. He smiles at her, yet the smile is forced. They try (and fail) to have sex. Misty is preoccupied since she's a bridesmaid in the wedding of Tala (Camila Mendes) and Abe (Tyler Hoechlin). Nyles is also preoccupied since…well, we'll get to that.
His preoccupation extends to the wedding itself. So much so that he arrives in shorts, a Hawaiian shirt, and clutching a beer. He becomes interested in Sarah (Cristin Milioti). She's the maid of honor. She's drunk, unprepared, and is in the beginning stages of botching her wedding speech. Her family views her as a liability, and she likely shares that view to a degree. Can you blame her, considering that her younger sister is so saintly she donated bone marrow to save a life?
Before Sarah can crash and burn, Nyles delivers a seemingly impromptu speech. It's a hit. She's interested in him. He's interested in her, so much so that when he discovers that Misty is enthusiastically cheating on him, he doesn't seem too bothered by it. The two of them head for the desert for an improvised hookup and a respite from their unsatisfying lives. And then?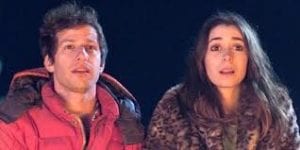 The wedding day is November 9. Again. The bad news is that Sarah discovers she's stuck in a time loop. The worse news is that she discovers Nyles has been stuck in the same loop for a very long time. After having slept with many of the wedding guests and having committed suicide multiple times, Nyles has come to the conclusion that nothing matters and nothing can be changed. Sarah disagrees, and tells him, "I don't want tomorrow to be today. I want tomorrow to be tomorrow." What happens from there is unexpected and delightful.
It bears mentioning that this is the debut feature of director Max Barbakow. He's cut his teeth on a number of shorts, and right out of the gate, he's made a great-looking feature with more humor and complexity than many made by industry veterans. It speaks to his talent that, in a 90-minute film, he simultaneously never wastes any of the run time while also knowing when to slow down for character moments and when to hit the gas.
Barbakow, along with screenwriter Andy Siara, knows that if you're going to make a time-loop film that will inevitably be compared to Groundhog Day, you need to stake out your own space. While the former film is ultimately about a guy reaching self-actualization, the script for Palm Springs has a greater focus on how a couple deals with recurring sadness and anxiety. If you're concerned that you're in for an existential bummer-fest, don't be. The time-loop stuff is endlessly fresh and creative, and there are a lot of laughs to be found here. The emotional beats never feel contrived, and I liked how Sarah's and Nyles' feelings never get put on hold at the expense of a gag.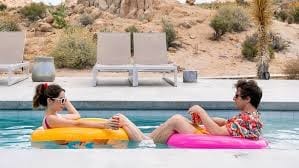 For a time-loop movie to work, the majority of your supporting cast needs their roles to be broad enough to be recognizable over and over, while your main characters should be as specific as possible. Cristin Milioti and Andy Samberg take the dull trope of "the hypercompetent woman and the dopey man-child kind of don't like each other but fall in love in the end anyway," and effectively turn it on its head. Milioti's Sarah is, in her way, just as much of a screw-up as Nyles is. She's intelligent and armors up her insecurities with sarcasm and booze. On the surface, Samberg seems to be playing another version of his Brooklyn Nine-Nine goofball Jake Peralta. Look a little closer, and you'll see him using that as a cover for deep melancholy. For Nyles, when you've been in a time-loop that long and done nearly everything, why care about anything? The chemistry between Samberg and Milioti is excellent, and they're both playing smart and complicated characters slowly learning that they're right for each other. Also, it would be churlish of me to spoil the role the mighty J.K. Simmons plays, but allow me to mention that the guy he seems to be playing when we first meet him is very different from the guy he is in the last scene.
Andy Samberg? I owe you an apology, dog. Funny, sad, and achingly romantic, Palm Springs is perhaps the perfect film to watch in a time where time has no meaning and when one day blurs into the next. I know it's a little weird to say this, considering movie theaters shut down in March, but I'm thinking Palm Springs might be the best film of the year. If it isn't, and there are better films on the back end of 2020, then I'll feel weirdly blessed.
*Though the captain of the Titanic also thought he had reasonably good judgment.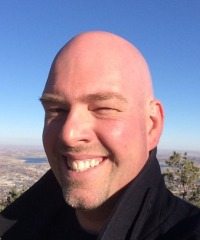 Tim has been alarmingly enthusiastic about movies ever since childhood. He grew up in Boulder and, foolishly, left Colorado to study Communications in Washington State. Making matters worse, he moved to Connecticut after meeting his too-good-for-him wife. Drawn by the Rockies and a mild climate, he triumphantly returned and settled down back in Boulder County. He's written numerous screenplays, loves hiking, and embarrassed himself in front of Samuel L. Jackson. True story.