Cooking Thyme With Tristan: Monty's Minestrone
In the latest episode of Cooking Thyme, Tristan goes with a souper soup — minestrone! Travel along with him on this souperb journey…
Monty's Minestrone
Named after my character in Circa 21's Saturday Night Fever (which hopes to see an audience again one day after all this nonsense), this soup is zesty and full of character. Though the ingredients list seems daunting, the creation isn't it!
Here's what you will need:
1 teaspoon Italian seasoning 1 teaspoon onion powder
1 teaspoon garlic powder
1 teaspoon dried parsley
1 teaspoon dried thyme
1 teaspoon dried basil
1 teaspoon dried oregano
1 teaspoon garlic salt
1 tablespoon of red pepper flakes
3 tablespoons olive oil
1/2 cup butter
1 carrot diced
1 red bell pepper diced
2 small Roma tomatoes diced
1 cup of tomato juice
1 can of tomato sauce
1 can of corn (drainer)
1 can of 3 bean medley (drained)
6 cups of chicken stock
1⁄4 of a bag of fresh green beans
1⁄2 bag of Italian meatballs
*add salt and pepper as needed
A box of macaroni; you choose the style!
Here's what you will need to do:
In a LARGE POT:
Combine tomato sauce, tomatoes juice, chicken stock, Italian seasoning, onion powder, red pepper flakes, garlic powder, parsley, thyme, basil, oregano, salt, black pepper, corn and beans in a large pot. Let simmer.
In a MEDIUM POT:
Bring a large pot of lightly salted water to a boil. Cook elbow macaroni in the boiling water, stirring occasionally until cooked through but firm to the bite.
In a PAN:
Heat olive oil and butter together in a large saucepan over medium-high heat adding carrots, green beans and pepper. Add red pepper flakes if you If you are wanting some more spice! Let simmer.
In the OVEN:
Cook Italian meatballs for the suggested time.
MIX EVERYTHING TOGETHER IN A LARGE POT AND LET THOSE INGREDIENTS GET TO KNOW EACH OTHER! Let simmer for 5-10 minutes.
Serve hot and enjoy!
This was my personal favorite!
Hopefully it makes you feel like a rock star, too!
Until next….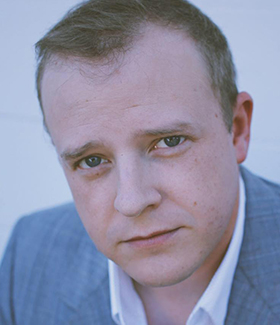 Tristan Layne Tapscott has been dubbed the "Quad Cities' P.T. Barnum" and although the person who initially said it meant it as an insult, he happily accepts the title.